Australians love their golf and Adrian Welsh could not get enough of golfing in Thailand, so on the spur of the moment, he returned after just four weeks for his second visit to Bangkok.
Adrian Welsh is from Sydney and is a member of Cumberland Golf Course.
Adrian Welsh in Thailand again
Adrian Welsh
He told us , "I used Golfasian for my golf trip back in August this year. I played four rounds in Pattaya and another two rounds in Bangkok. In fact, I enjoyed it so much that I returned  four weeks later to play more golf and Golfasian organised my trip again."
Booked on a Monday and arrived on a Thursday
'In fact, I emailed Darren from Golfasian on a Monday from Sydney telling him what I wanted and was playing golf four days later in Bangkok. Never had better service or organisation."
 Adrian says he finds Thailand a great country to visit
"The people are very friendly, the food is superb, the weather is tropical, and they have world-class golf courses so choosing Thailand was very easy."
"Golfasian had packages that played on these world-class golf courses and at competitive prices."
"Every day Golfasian picked me up from my hotel and drove me to the golf courses, organised my round with the pro shop and starter, waited in the car park for my round to finish, and then drove me back to my hotel. 5-star service."  
Caddies added to his experience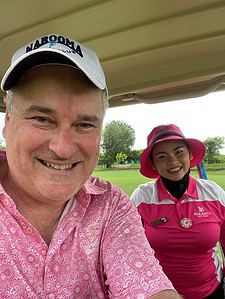 According to Thai legend Thongchai Jaidee Thai caddies are the country's secret weapon
Adrian obviously agrees as well.
"The local Thai caddies really enhance the golfing experience at each golf club. I wouldn't have enjoyed the golf as much without these caddies," Adrian said.
On this trip, Adrian played at Nikanti and Suwan golf clubs in Bangkok.
"I personally chose Nikanti as it is world class and provides challenges on every hole. It also has very knowledgeable caddies that help with your game. Suwan golf course was chosen for me." 
What did Adrian actually have to say about his to selected golf courses?
SUWAN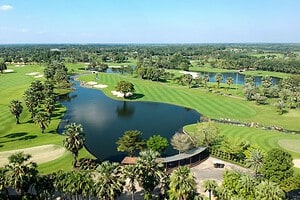 "Suwan Golf & Country Club is a very picturesque course with water coming into play on the majority of holes, any of the par 3's could be the signature hole on the golf course.
The fairways are generous, and the par 5's were not overly long giving me plenty of birdie chances. Suwan is a very fair golf course, and all levels of handicaps can enjoy their day there. The course was in particularly good condition."
NIKANTI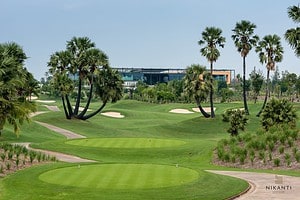 "Nikanti Golf Club is a world-class layout with challenges on every hole. It has six par 5's, six par 4's, and six par 3's ensuring every club in the bag is used. Even though the fairways are generous you need to be straight off the tee otherwise trees, long rough, and the out of bounds come into play. The green complexes are some of the bests I've played, and it makes it a very challenging golf course. I've played Nikanti twice and both times the course was in top condition and makes you feel like you are playing a professional tournament golf course. I can't wait to play it again."
Adrian is obviously keen to return as he feels there are so many good courses to play.
"Next time I would like to play in Hua Hin and more courses in Bangkok. I especially want to play Black Mountain. For me, I think that 14 days would be ideal with a couple of rest days for sightseeing."
We look forward to Adrian's next visit when he may venture outside the capital to experience some incredible tracks across the Land of the smiles!
OK we at Golfasian normally find our clients do book in advance, but it just goes to show we can pull out the stops and get you on the  best courses within days.