Overview
Itinerary
Inclusions
Pricing
Request more Information
Overview
Spain is a country with music in its soul, a love of fine food, and an innate talent for celebrating the good things in life, and their neighbours in Portugal are also known for living life to the fullest  – with golf being one of their shared pleasures!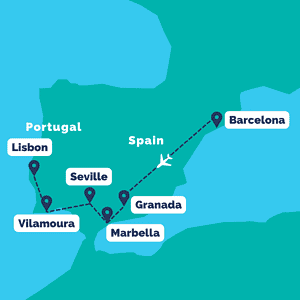 Passion is woven into the fabric of daily life here, whether you are savouring Pata Negra (ham tapas) with newfound friends or feeling your heart beat faster as a vivacious flamenco dancer swirls her skirt to a hypnotic tempo.
You'll play golf around charming Mediterranean coves and along the wildly beautiful cliffs of the Atlantic coast. Highlight courses include PGA Catalunya Stadium (Barcelona), Monte Rei (Algarve, Portugal), Quinta do Lago (Algarve, Portugal) and Oitavos Dunes (Portugal).
Everywhere you go, villages of timeless beauty perch on hilltops, gather in valleys and cling to coastal outcrops as tiny, resilient outposts of Old Spain. Then there is Portugal, with medieval castles, cobblestone villages, captivating cities and golden beaches. Combine this with some of the best golf in Europe and you'll find Spain and Portugal quickly take over top spot on your travel bucket list.
Non-golfing partners are well looked after with immersive tours visiting cultural attractions.
Our Spain-Portugal tour always sells out quickly, so be sure to book early!
Itinerary
Inclusions
Pricing
Request more Information