Overview
Itinerary
Inclusions
Pricing
Request more Information
Overview
The Cradle of Humankind, nowhere on earth is nature more spectacular than South Africa.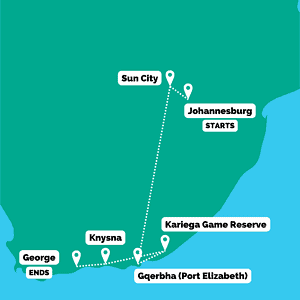 Get up close and personal with the animals of the Rainbow Nation as the people welcome you with warmth.
Stay in sun-drenched accommodation with every luxury at your fingertips while playing world-class golf courses designed by greats of the game.
Any one element of this tour is worth the trip alone, but we've woven it all together for you into one blockbuster, bucket-list tour.
Bringing golfers together for the best time of their life is our mission at Go Golfing. And at the core of this mission is YOU. Your safety, comfort and joy will always come first in everything we do.
Our hosts undertake accreditation and destination training to ensure the tour is delivered to the highest standards.
On tour strangers quickly become friends. In fact, we make sure you get to know a little about everyone on tour before you even leave home. You'll be joining a wonderful community of golf-travellers, adventure-seekers and fun-lovers.
Go Golfing tours more countries than any other golf travel company in the world. We go above and beyond so you come home asking "Where to next?"
Itinerary
Inclusions
Pricing
Request more Information