Amateur Golf Tournaments in Asia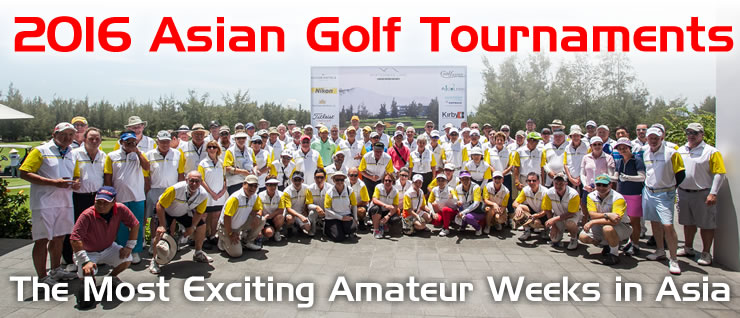 The Golfasian Amateur Series is Asia's first and only amateur golf tournament series that provides men and women of all ages, with any handicap, the opportunity to compete on a level field. Our goal is to provide the highest standard of professionalism, offering golfers the opportunity to play a collection of Asia's finest golf courses and experience the excitement, camaraderie and friendly competition of tournament golf.
Throughout the year, golfers from around the world can play Asia's finest public and private golf courses in a multi-day tournament format, unlike anything else ever produced for amateurs.
Read our Golf Tournament Announcements:
Asia's Top Amateur Tournament To Become Even Bigger
World Golfers Flock To Hua Hin Thailand
"Indochina's Leading Golf Tour Operator Aims To Draw Amateur Golfers To Thailand"
Inaugural Accor Vietnam World Masters A Win
Asia's Top Amateur Tournament To Become Even Bigger
2016/2017 Asia Amateur Golf Tournament Lineup
| | | | |
| --- | --- | --- | --- |
| Event Name | Dates | Location | |
| | 12 - 18 June, 2016 | Hua Hin, Thailand | |
| | 19 - 25 June, 2016 | Pattaya, Thailand | |
| | 31 July - 8 August, 2016 | Sieam Reap, Cambodia | |
| | 8 - 14 August, 2016 | Danang, Vietnam | |
| | 4 - 9 September, 2016 | Danang, Vietnam | |
| | 16 - 22 October, 2016 | Pattaya, Thailand | |
| | 23 - 29 October, 2016 | Chiang Mai, Thailand | |
Apply/Contact us about these events