Kota Kinabalu Destination Review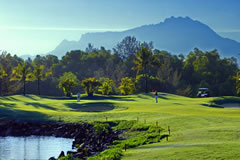 Kota Kinabalu is the capital city of Sabah. Situated in the north-eastern part of the world's third largest island, Sabah is the second largest state in Malaysia. Referred often as the "Land Below The Wind", Sabah has a tropical climate with sunny blue skies most days of the year.
The state of Sabah has plenty to offer to tourists and holidaymakers. Activities like mountain climbing, jungle trekking and white water rafting are gaining popularity. There are also some fabulous islands for snorkeling, scuba diving or even simple swimming and idling away in the sun. One of the main attractions is the famous Mount Kinabalu, the highest peak in Southeast Asia. In addition to this there are some fantastic golf courses by designers such as Jack Nicklaus, Ronald Fream, Ted Parslow and Graham Marsh making this a great golf holiday destination. Kota Kinabalu is easily accessed from Kuala Lumpur and Singapore with daily flights to the international airport.
Thursday, 2013-05-30 13:57 Age: 4 Years